At Happy Egg, we're in the business of brunch. Well… technically eggs. But what is brunch without eggs? On top of that, who doesn't love a good themed get together? Here are 7 out-of-the-box brunch theme ideas for your next soiree that will impress your friends—and make for plenty of Instagram-able moments.
1. Red Carpet
Fresh off the heels of award season, we can't help but dream of a world where two of our favorite things meet: award shows and brunch.
Picture it with us: your nearest and dearest, dressed to the nines, toasting mimosas, and sampling award-winning hors d'oeuvres– and no, slaps aren't on the menu (iykyk). Instead, try your hand (see what we did there?) at breakfast bruschetta, mini quiches, bite-sized pancakes, or the fan-favorite deviled eggs.
Don't forget to hang a backdrop, roll out a red carpet, and capture your besties' red-carpet-inspired looks.
2. Bagel Bar
Our kinda BYOB (build your own bagel). Create the perfect spread with a mix of mini bagels and a variety of savory and sweet toppings.
Our recs include (but are certainly not limited to) butter, your favorite cream cheeses, jams of your choice, Nutella, and honey. Add some fresh fruits and veg (we're talking sliced apples, strawberries, avocados, tomatoes, and chopped green onion), bacon, smoked salmon, and sliced hard-boiled eggs, and you've got something for everyone– from the pickiest of eaters to the most daring of devils.
3. Mean Girls
Get in losers, we're going to brunch (and yes, you can sit with us).
The only rule of a Mean Girls brunch is that there is no such thing as too much pink. Mimosas? Sub OJ for pink lemonade. Waffles? Try pink velvet. Fresh fruit? Let strawberries and raspberries have their moment. Dress code? Pink. Decor? You'll never guess.
Bonus points for each Mean Girls quote used in your spread (ransom font required). We'll give you a head start…
"You can't sit with us!" Swap sit for sip, and you're mimosa bar ready.

"I'm on an all-carb diet!" We're convinced Tina Fey wrote this line with waffles in mind.

"That's so fetch!" Sorry, Regina, we're Team Gretchen. Anything and everything at our brunch can be labeled fetch.
4. Tour de Brunch
You don't have to be an Instagram foodie to know: traveling 🤝 eating gooood.
So why not bring a taste of travel home? Have each guest claim a country and bring a dish or drink to represent. We're dying to try Tik Tok's Turkish Egg recipe, and who doesn't love a boozy Irish Coffee.
5. The Morning Toast
Gooooood morning Millennials!
Yes, we are bringing the iconic pop culture podcast, The Morning Toast, to life with a toaster-themed brunch. What's on the menu? Toast, obviously. French toast, cinnamon toast, avocado toast, eggs on toast– the possibilities are endless. Have each guest bring a piece of headline-making celebrity gossip and deliver the stories your crew needs to know before they wake up and take a bite out of their morning toast.
Don't forget to raise a glass (we recommend a glass of Aperol spritz) to how beautiful, stunning, and smart you are!
6. Bridgerton Brunch
"It has been said, dearest reader, that brunch is the most important meal of the day." - Lady Whistledown (probably).
Cover your table in the brightest flowers, set out your finest china, put on your favorite sundress, and as Marie Antoinette said, "Let them eat cake!" Or in this case, let them eat all the society-inspired tea cakes, scones, and finger sandwiches their hearts desire. While you're at it, why not slide into Regé-Jean Page and Jonathan Bailey's DMs with invites? We're just saying, you'll never know if you never try.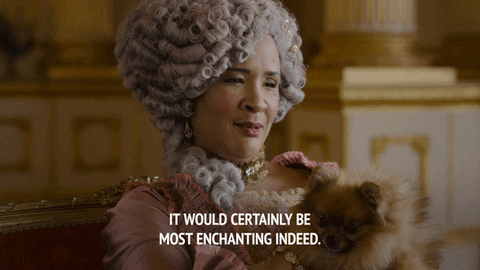 7. Southern Comfort
Change our mind: Southern comfort food is the ultimate comfort food. Specifically: Southern brunch. We're talking biscuits and gravy, chicken and waffles, shrimp and grits, eggs over easy, and hashbrowns that would make the Pioneer Woman proud.
What are you waiting for? Our mouths are watering just thinking about it.
---