"These eggs are so sexy, omg."
Happy Egg Heritage eggs are, in our not-so-humble opinion, the greatest eggs on planet earth. From their striking shell colors to the rich amber yolks, they will upgrade any dish in a crack.
Whether you're new to the Happy Egg brand, have never even seen or tried our eggs before and are a skeptic shopper, or you're looking for inspiration for your own raving review, it's fair for you to do your research before you commit.
We also know it might be hard to just take our word at shell value. So, don't. You heard us. Don't take our word for it. Instead, take the word of these 10 honest, witty, and wordfully-gifted customers who went out of their way to leave a review for an egg.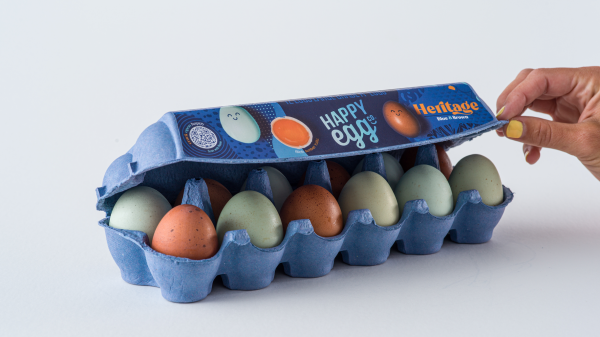 1. Ruined for life
"Do you know what really ruins my day? When I can't get heritage eggs because they've sold out. Darn you Happy Egg. I am ruined for life now I've tried your beautiful eggs with little sunsets for yolks."

Those little sunsets for yolks really are great, aren't they?
2. The holy grail of the egg industry
"I am an egg enthusiast and a purist. After many years of choosing the best tasting egg in California, I finally found what I'm looking for. The sunset orange yolk and the nutritious taste is the holy grail of all the eggs i've ever tried. Nothing but the best!"

Sippin' 'til our cup runneth over.
3. best eggs ever
"The first time I tried Happy Egg Heritage Eggs was a food epiphany moment. These eggs had such a robust flavor and intense creaminess like I had never tasted before. I used to think all eggs were the same. Now I know what a real egg tastes like!"

May we all have more food epiphany moments in life.
4. sexy
"That beautiful orange yolk is so sexy omg. I will never eat any other egg so long these are available. Love it over easy and that golden molten lava running over my sourdough toast. So heavenly."

Maybe we should rebrand to "Sexy Egg," no?
5. i never knew eggs like this still existed
"I thought eggs like this were a thing of the past. But like the 1st time I tasted grass-fed cows milk childhood memories were triggered. I was transported back to the late 60's when we had milk delivered to our door along with eggs, butter & cheese. The flavor of these eggs is rich creamy & so full of flavor. Worth every single penny! It's a level of priority. If you want to live a long, healthy life then you eat food from the earth cultivated with the least amount of human intervention as safely possible. Mother Nature knows what she's doing. We just need to trust the process and nurture it, not interfere with it."

Here for the nostalgia of it all. All in favor of bringing back milkmen, say "I."
6. the only eggs in the world to me now
"I can't stop making egg dishes. Fried, scrambled, french omelettes, souffles...it's taking over my life, I might need help. These eggs are simply unbeatable! The yolk color is fantastic, but it also comes with an unsurpassed rich flavor. No other eggs come close."

*Googles Egg Addiction Therapy near me*

7. the filet mignon of eggs
"Actually, more like the wagyu of eggs! These are the best quality eggs I've found in the US and I've just about tried everything on the market. Not only are they visually stunning, but the taste and quality is unmatched. Simply delicious!"

This will forever be one of our favorite reviews of all time.
8. new take on an age-old question
"The question has been asked since the beginning "WHAT CAME FIRST, THE CHICKEN OR THE EGG" This question is no longer needing to be asked because it really doesn't matter because in 2009 Happy Egg was founded and in my opinion the question now should be, Q: "WHAT & WHEN WAS THE BEST EGG CREATED AND BY WHOM? A: HERITAGE BREED, 2009, by HAPPY EGG"

We support this change.
9. might as well be local farm fresh
"The shells are exceptionally tough and the albumen doesn't break too easy, a sure sign of a high nutrient diet. The yolks are obviously orange and rich. I use the yolks for carbonara, or for tossing with stir fry. I eat the eggs for breakfast most days with hash browns, the yolks are a good compliment to potatoes."

Clearly this person knows their egg science!
10. Wow! Amazing! the best!
"I have been eating eggs my whole life, and have never thought, "Hey, let me drop a line for the Happy Egg farmers because I have not ever had an egg that tastes better in my life!!!" Thank you thank you oh thank you!!"

An egg worth raving over.
---